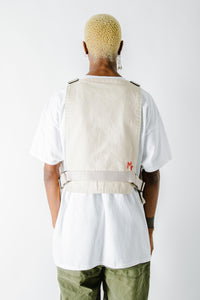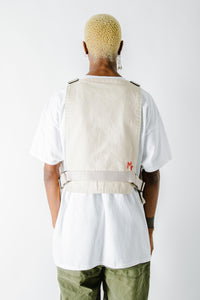 MICHAEL TORNATO'S WORK TYPE VEST - TYPE A IN NATURAL COTTON OR BLACK  HEAVIEST DUTY 30 OZ. DUCK CANVAS IS WAIST LENGTH. FEATURES ADJUSTABLE COTTON STRAPPING, SINGLE ZIP LAMPO ZIPPERS, AND HIGH QUALITY DURABLE METAL HARDWARE. THIS VEST HAS 2 LARGE POCKET BAGS.
[INSPIRED BY THE ORIGINAL MILITARY "LIFE PRESERVER VEST - WORK TYPE"]
+ COLOR: BLACK/NATURAL COTTON.
+ MATERIAL: 100% COTTON.
+ STRAPPING: 100% COTTON
+ HARDWARE: METAL
+ MODEL IS WEARING SIZE: L - XL IN BASE TREATMENT
+ MODEL IS 5' 11" FT. TALL.